COURTESY OF TIDEWATER NEWSPAPER ARTICLE APRIL 3RD 2011
Published 9:54am Saturday, April 2, 2011
COURTLAND—After nearly two years of work, the vision of Chief Walt "Red Hawk" Brown is finally taking shape.
The project to plant more than 20,000 longleaf pine trees on land designated for the future home of the Cheroenhaka (Nottoway) tribe's cultural center and museum was a cooperative effort between the tribe, The Nature Conservancy, the Virginia Department of Forestry and other state and federal agencies.
The leader of the Cheroenhaka (Nottoway) Indian tribe of Southampton watched Thursday as crews planted more than 20,000 longleaf pine trees on 50 acres the group will develop into a cultural center and museum with interpretive trails, a Cattashowrock village and a museum with more than 2,000 artifacts.
While still in the beginning stages, Brown said the center could become a major attraction for tourists.
"When this comes to fruition, we're talking about 100,000 to 150,000 tourists coming into Southampton County and Franklin," Brown said. "Long term we envision the number increasing to 200,000 to 250,000."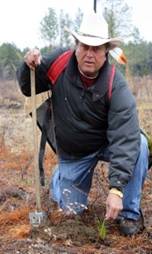 Brown said the vision should be completed within two to seven years with the museum being the first finished structure on the site.
In addition the site will boast 21,000 longleaf pines planted Thursday morning in an effort to bring back the trees native to the Tidewater region.
"Longleaf pine in the Tidewater area historically covered about a million acres," said Robert Clontz, The Nature Conservancy land steward for southern Virginia. "They really didn't occur anywhere else in Virginia."
Unfortunately centuries of use has led to a whittling down of the species to only a few hundred cone-bearing trees, Clontz said.
In recent years there has been a lot of interest in restoring longleaf pines in the area, which, in part, spurred a partnership between the tribe, the conservancy, the Virginia Department of Forestry, the Virginia Department of Conservation and Recreation and the U.S. Department of Wildlife and Fisheries.
"The interest in restoring longleaf pine in the area in the last few years has been phenomenal," said Harvey Darden, Southampton County forester for the Department of Forestry.
The departments helped the tribe and the Cheroenhaka (Nottoway) Indian Tribal Heritage Foundation secure two grants totaling $11,500 for the project and provided in-kind services as well. The tribe entered into a 15-year lease on the property.